Japanese-speaking iPhone 4S owners will now get a chance to chat with Siri. Apple on Wednesday rolled out iOS 5.1, which adds Japanese language support for the iPhone 4S's artificially intelligent assistant.
Announcing the iOS update during a press event, Apple CEO Tim Cook said the 5.1 update would be available Wednesday, with Siri support rolling out in Japan over the next few weeks.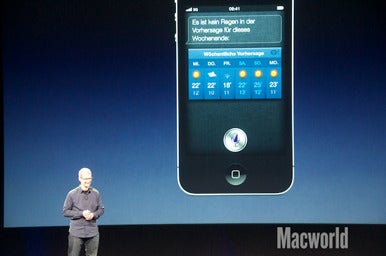 Tim Cook shows off Siri at the Apple press event on Wednesday.
With the addition of Japanese, Siri now supports five languages. Previously, the voice-activated feature recognized English, British English, Australian English, French, and German.
Support for Japanese wasn't exactly unexpected. Last month, Siri included Japanese among its supported languages when asked by iPhone 4S users, according to reports.
During Wednesday's press briefing, Cook didn't indicate any other features added in iOS 5.1. We'll update this story as we find out more details.