Rolling
Final Cut Pro X starts off by immediately analyzing your media as it begins to import footage, while at the same time archiving critical secondary information on color balance, motion, rolling shutter artifacts, tracking, and stabilization data on a clip-by-clip basis.
While handling the bulk of analytical information at ingest, FCP X is tagging the files with metadata in a manner that speeds secondary file processing, delivery, and rendering capabilities and vastly accelerates workflow. The heavy lifting of this content is invisibly handled in the background—between the application and the Mac operating system—as a byproduct of the conversion to a fully 64-bit application workflow.
The most profound interface changes to FCP X—beyond the new darker look—are the Event Browser and the Event Library. Importing your content into the app creates a new Event, a virtual folder that holds all of the information about your media: what it is, where it's stored, and whether it's from a specific date, place, or client. You can even rate, organize, and show or hide clips from view while accessing tools like Keyword and Smart Collections. Events are created by the application as part of the ingest, in addition to your organizational effort.
When you're done creating your video, you can use the direct upload options within FCP X to share it on Facebook, Vimeo, YouTube, and CNN iReport. All Apple devices are available as options, as well as Podcast Producer, output for standard definition DVDs, and even Blu-ray devices, directly within FCP X. Plus, the application still offers fully integrated processing with Compressor. Standalone export output options offer all flavors of Apple's ProRes, H.264, DVCProHD, Apple HDV, and even Sony's XDCamEX format at 35Mbps and the 50Mbps version of the XDCamHD 422 codec.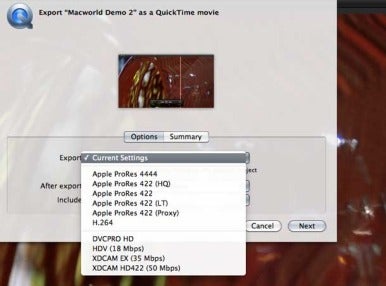 Here are the currently available output options for file delivery when exporting your project directly from FCP X.
In this hands-on First Look at the new Final Cut Pro X , I'll walk you through some of the major interface elements that inaugurate new ways of editing and organizing your video.
Magnetic Timeline
Acting as a trackless canvas for your video edit, the Magnetic Timeline allows you the freedom to arrange and re-arrange your media wherever you want. Existing clips on the timeline slide in and out of the way without danger of collision or overwriting a previous edit. They snap into place "magnetically," dynamically aligning with existing media in the timeline. Despite being trackless, you can easily create multi-level compositions and properly maintain continuity as you move media around in your project. This feature interactively shows you exactly what's happening in the timeline as you work, so you can easily execute your vision.
Clip Connections and Compound Clips
Designed to maintain the continuity of media in the timeline, Clip Connections are relational links between primary media in the timeline and secondary elements. Content such as titles, B-roll, sound effects, and even music, can be moved and repositioned seamlessly as a single clip, maintaining audio and video sync, and giving you a clear, visually defined connection to your assets.
Alongside Clip Connections and its facility at combining primary and secondary elements into a cohesive unit for editing and filtering, Compound Clips further advances the concept by allowing a complex multi-element group of media to be handled as a single clip. It's easy. Just select the relevant media and choose Create Compound Clip from the File menu (or hit the Option-G key command).
Compound Clips let you move, duplicate, and handle clips as an individual segment. You can even share such clips across multiple projects or use a clip to apply filters and effects across all combined elements. The Compound Clips feature helps video editors remove clutter and simplify the timeline's organization, while maintaining media continuity.
This is the Compound Clip when open.
The Compound Clip command offers a vastly simpler timeline that minimizes the additional track and clip information until needed. Think of it as a nested sequence on steroids. This is the Compound Clip when closed.