Color grading
Whether you need a single-click correction or want to create a stylized look, all color work now happens within FCP X. From the first analysis, color balance and correction are mapped for use, allowing you to quickly match multiple shots in the same group or refine the look of any clip in the Event Browser or the timeline.
The Color Board gives you a dynamic way to make custom modifications to overall color, saturation, and exposure, while allowing keying and masking to be done simply and directly within the app. The Match Color feature offers a fast and easy way to match the overall color, contrast, and look between two different shots to maintain a project's visual continuity.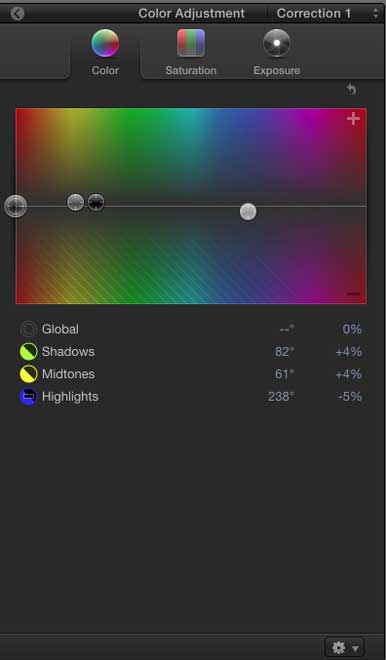 The Color Board represents the essence of Apple's FCP X interface changes. It allows you simple control over exposure, color, and saturation.
Bottom line
Apple's new Final Cut Pro X has been re-designed from the ground up with a radically different approach—one that acknowledges and uses device and camera data in a manner that has never before been attempted in the video editing environment.
With this release, Apple shows us the future in which data streams from all the devices we work with communicate seamlessly, sharing media behind the scenes. Think of the advantages and possibilities when all the effort you put into setting up a shot or project continue downstream from your camera into post-production, or follow your content when it's delivered on the web. That's the promise of Final Cut Pro X. Will that promise be fulfilled?