Adobe Premiere Elements 9 full review
Point-and-shoot digital still cameras have been able to capture video for years, and now, the latest crop of DSLRs distinguish themselves by their video capabilities in addition to how well they capture stills. Even mobile phones like the iPhone 4 can shoot HD video. But the choices for people looking to edit that video are surprisingly limited.
iMovie '09 is geared toward making short, easily shared clips, but Apple lost many fans when it completely retooled iMovie after version 6. Final Cut Express provides plenty of power, but carries a significant learning curve for people who aren't versed in the language of video editing. And high-end tools like Final Cut Pro or Adobe Premiere Pro CS5 are typically too advanced and expensive for casual shooters.
With the new Premiere Elements 9, Adobe offers an alternative that provides much more editing capability than iMovie, but with a somewhat easier editing interface than Final Cut Express (at least, when using its Sceneline mode). And at $100 (£77), Premiere Elements is also half the cost or less (when bundled with Photoshop Elements 9), of Final Cut Express (£129). iMovie is free with the purchase of a new Mac or £71/$79 as part of iLife.
Although Premiere Elements has been refined over many iterations under Windows, this release marks its first appearance on the Mac. As a result, this "new" product isn't starting off as a bare-bones editor (think iMovie 8). That said, despite its expanded editing power, the program can quickly become complex—which is both good and bad, depending on what you're expecting—and its easy-editing mode is hampered by annoyances that magnify with use.
Editing at all levels
For casual users who want to start editing video without fully committing to a traditional multi-track timeline (or even know what such a thing is), Premiere Elements offers the Sceneline. Each clip added to the Sceneline is represented by a single thumbnail, with transition icons separating each clip. You simply drag clips from the Organize panel to populate the movie.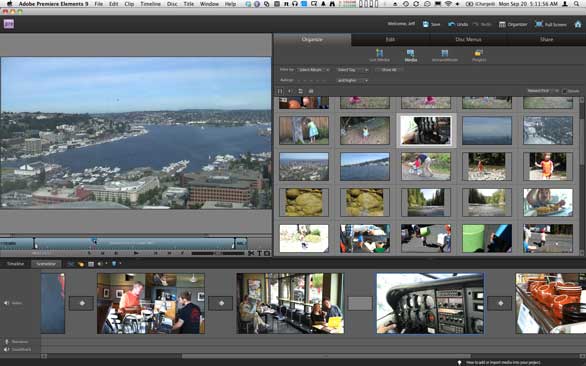 The Sceneline presents a less intimidating version of a project than the Timeline panel.
This environment, and other features of Premiere Elements, reflects the software's focus on doing much of the work for people who don't want to delve into the complexities of video editing.
For example, the Instant Movie feature is designed to let Premiere Elements build a movie out of your footage, spruced up with theme elements. You end up with a completed movie, although you have no control over its appearance, and it shows up in the Sceneline or timeline as just one rendered clip. (Magic Movie, a feature of iMovie HD 6, was similar in concept.)
However, even novices can't escape complexity in Premiere Elements. When you start a new project, camera settings are automatically selected for you (or match the settings used for the previous project). There's an option in the New Project dialog to specify which video settings to use, and while the list of formats are clearly laid out, there are gaps.