iTunes 10 full review
Apple has apparently added "update iTunes" to its yearly September media event to-do list. Along with a new iPod nano and iPod shuffle, a revamped iPod touch, and a refreshed Apple TV, Apple delivered the third iTunes version update in as many years, iTunes 10.
Now, I don't think you could be blamed for assuming that iTunes 10 is a major update—after all, 10 is a big number, and it marks iTunes's debut in the double digits. But Apple seems to have used some restraint this time around, introducing only one major new feature and noticeably improving performance, but still lathering its typical and haphazard coat of interface changes.
Ping me
The one major new feature in iTunes 10 is Ping, which Macworld has already spent a bit of time with, so I don't want to rewrite too much of our introduction. In a nutshell, Ping is a new, optional social network for music that Apple built into iTunes 10. Friends can follow, view, and comment on each others's new purchases and songs they "like," and stay on top of upcoming concerts. Artists can create their own store pages, interact with fans, and post photos and videos.
Ping is Apple's first stab at reintroducing some of the social elements that have been lost in the evolution from traditional forms of distribution to digital media. We don't run down to the local music shop anymore to argue with our friends and the know-it-all-clerk over which album marked our favorite band's fall from grace. We click to download music and, at best, post our favorite new song or album to Facebook or Twitter.
But now, instead of clicking to share our favourite new album on Facebook or Twitter, we can... click to share it on Apple's social network instead of someone else's. Within 48 hours of releasing it, Apple boasted that over one million users have signed up for Ping. Beyond that inevitable spike of early adopters, though, we'll have to wait and see if Apple's first foray into making the iTunes Store more social will resonate with a meaningful percentage of users.
In the context of Apple's efforts on the Web, Ping is a decent 1.0. It does what it says on the tin, and it's fun to see what my friends are buying and let other friends from across the country jump into the conversation. But Apple's not a social networking company, and it arguably isn't very good at the Web (Exhibits A and B: iWeb and MobileMe's rocky birth). Stepping out of Apple's bubble, Ping leaves a lot to be desired.
We covered most of Ping's drawbacks in our first look at iTunes 10, but to recap: there's no way to get notified of new activity like new comments from friends or when your favorite artists post something new to their pages. Since Facebook Connect was short lived in iTunes 10, the only way you can add new friends right now is manually, by typing in their name or email. How 2003.
Perhaps most importantly, Ping is only for music right now. You can't see when your friends buy a movie, rent a TV show, or splurge on a bunch of new iPhone games. You can't chat with friends on an iTunes Store Ping page about what happened in last night's Mad Men, and App Store developers still can't respond or offer customer support to the virtual tsunami of misguided or incendiary reviews of their apps.
In light of all the buzz around the App Store, video content, and social-everything right now, Ping is the most prepubescent product to come out of Apple since the original Apple TV. Of course, Apple is an iterative company, and social networking has proved to be a popular way to drive traffic and sales. You can bet that Apple will issue a stead flow of updates to Ping and, hopefully, spread it to the other types of media that the iTunes Store sells.
Other new features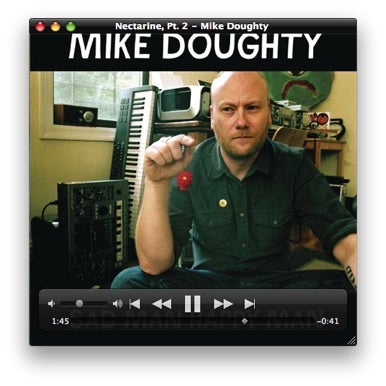 iTunes 10 now displays player controls when you mouse over the album artwork popup.
Ping gets the lion's share of attention in iTunes 10 right now, but there are some other interesting new features. Though pitched mostly for future owners of the new Apple TV, TV show rentals can be viewed in iTunes 10 or on an iPhone or iPod touch running iOS 4.1, which is due out this week. AirPlay is also an interesting new feature that will let iTunes stream music and video to new AirPlay-enabled speakers, receivers, and iPod accessories. It's an evolution of AirTunes, which previously allowed iTunes to stream music to speakers that were hooked up to an Apple TV or an AirPort Express. Now, Apple licensed this streaming tech in its new form to third-party manufactures, but we'll have to wait a little while for them to get AirPlay-enabled devices on store shelves.
If you click the album artwork patch in the lower-left to open said artwork in its own window, it now includes player controls when you mouse over it. This is a mildly useful feature that many third-party iTunes utilities highlight, so Apple's adoption of it is both a blessing for users and a curse for some utilities that may have to strike out a previously noteworthy feature.