Mac OS X 10.7 Lion full review - Page 2
Scrolling and gesturing
Apple has been adding Multi-Touch gestures to OS X since the introduction of two-finger scrolling in the PowerBook in 2005. After the arrival of the iPhone in 2007, things really picked up steam. In 2008 MacBooks got a Multi-Touch glass trackpad, and in 2010 Apple brought the same gestures to the desktop with the Magic Trackpad. With Lion, Multi-Touch gestures are now front and center, and it'll be interesting to see how users react.
For some users, gestures are already second nature; I can't imagine using my MacBook without two-finger scrolling. As someone who uses the Desktop to store all of the files I'm currently working on, the four-finger flicking gesture that clears away all windows so I can see that Desktop is now burned into my muscle memory. (To do that in Lion, you now flick with three or four fingers and your thumb.)
But for others, gestures are completely foreign. When I mention two-finger scrolling to some people, they look at me like I'd just claimed that I'd been to the moon. (For the record: if you slide two fingers up and down on a trackpad, it's just like you were spinning a mouse's scroll wheel. Try it, it's great!)
It's true that gestures can be tricky to learn. Some feel natural, because the result mimics the gesture: the three- or four-finger flick that moves your windows out of the way and summons Mission Control; the three-finger sideways slide that moves you from one space to another; and the new four- or five-finger spread that reveals the Desktop. Others are less intuitive: the two-finger double-tap that provides an iPhone-like zoom, for example, or the double-tap with three fingers (not the triple-tap with two fingers) that produces a pop-up dictionary definition of any word onscreen. Nifty features both, but tough to remember.
Lion also dramatically changes the two-finger scroll. That's because Apple has decided to change directions: In previous versions of OS X, if you slid two fingers upwards on a trackpad (or moved the scrollbar on the side of the window up), your view of a document moved up; the document on the screen seemed to move down, and you would see content higher up on the page. In Lion, if you push those two fingers up, it's as if you're physically pushing the document up; you see the content below what had been onscreen.
Apple says that after a few days of using OS X with this new behavior, your brain adapts and then you won't be able go back to doing it the other way. It's true: After three or four days, I was comfortable with the new scrolling orientation. If you're willing to put up with a few days of weirdness, your mind will adapt. If you can't, well, go to the Scroll & Zoom tab in the Trackpad preference pane and uncheck the Scroll With Finger Direction option; that will restore the old scrolling behavior.
Users of desktop Macs who don't like trackpads will be grumpy about the change. Fortunately for them, you don't need a trackpad to use Lion; most of the features you implement via gestures can also be activated using keyboard shortcuts or contextual menus.
With this change, Apple is syncing the behavior between the iOS and the Mac. Is it really necessary for the two platforms to be in sync? Right now, I'd say no. But it does make me wonder whether Apple is laying the groundwork for more crossover between the two operating systems. If someday there's a touchscreen Mac or one that can run iOS apps natively, having a consistent scroll-direction philosophy will make sense. For now, though, if it hurts your brain too much, you can just turn it off.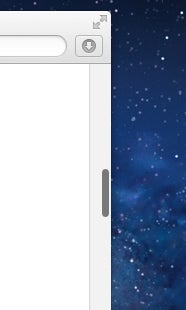 Lion's new scroll bars, which only appear when you're actually scrolling.
Speaking of scrolling, scroll bars, and crossover between the Mac OS and iOS, Lion also introduces the biggest change to scroll bars since they were introduced with the original Mac in 1984. By default, scroll bars on Lion are invisible, just as they are in iOS. You see nothing on the right side of a document window until you begin to scroll with a trackpad or mouse. Only then does the scroll bar appear. When it does, it's clickable and draggable; you can even move your cursor above or below the bar itself and click in a light-gray scroll lane to jump rapidly through a document. But when not in use, the scrollbar fades away.
As someone who has fully embraced the concept of scrolling via two fingers on a trackpad, I like this approach—I didn't use that scroll bar space and generally don't need to see it. But as with so many of the changes Apple is making in Lion, the company gives users who like the old way an out: In the General pane of the System Preferences app, there's an option to always show scroll bars. If you like to click on those arrow buttons at the top and/or bottom of the old scrollbars, though, you're out of luck: They're gone completely. I can't remember the last time I used them, so that doesn't bother me.
Mission Control
Over Mac OS X's lifetime, Apple has introduced several ways for users to cope with window clutter—the problem of having too many documents and apps open on the screen at the same time. Exposé, which lets you quickly see all of your currently open windows, was introduced in 2003 with Mac OS X 10.3 (Panther). Dashboard, that separate onscreen space for tiny widget apps, appeared in 2005 with Mac OS X 10.4 (Tiger). Spaces, which let you assign apps to multiple virtual desktops, arrived in 2007 as a part of Mac OS X 10.5 (Leopard).
With Lion, Apple has combined all of these features into a single interface called Mission Control. When you activate Mission Control by clicking on the Mission Control app in the Dock, pressing a keyboard shortcut (F9 by default), or gesturing (swiping three or four fingers upward), you see an Exposé-style view of all the currently running applications with thumbnail views of all their open windows. At the top of the screen, there's a list of all available spaces—including not just the virtual desktops that the old Spaces feature offered, but also all apps running in full-screen mode and (by default) Dashboard.
Configuring those spaces is simpler now: If you want to stick an app or a window into a new space, you drag its icon or window towards the top of the Mission Control screen. As you drag, the image of a new desktop appears in the corner of the screen, with a helpful plus icon. Drop the icon or window on that image and a new desktop space is added to the array at the top of the screen. You can drag items from space to space, but can't rearrange the order of spaces.
Though you can move between spaces via keyboard shortcuts and clicking, it's best handled via a trackpad gesture. A three-fingered swipe left or right on the trackpad will take you from space to space. It feels natural; I'm more likely to use Dashboard now that it's just another space. Fans of the previous Spaces will need to re-orient; the old way allowed you to create a two-dimensional grid of spaces, but Mission Control limits you to a single horizontal strip. However, working with those spaces can be disorienting: When you switch between spaces, the order of desktops can get mixed up; items that were floating on top can end up behind another window. There's definitely some fine-tuning to be done here.
I like the visual, tactile approach Apple has taken with Mission Control. I'm not sure if novice users will ever take to organizing windows and apps on multiple desktops. But since every full-screen app gets its own space by default, many people will end up using Mission Control whether they want to (or know they are) or not. I also wish there was a way to manually re-order spaces. Still, while Spaces had its adherents, I think Mission Control will be embraced by many more Mac users. By bringing Exposé, Spaces, and Dashboard together into a more unified whole, Mission Control is greater than the sum of its parts.