Mac OS X 10.7 Lion full review - Page 5
Resume
Apple seems intent on stamping out the idea that quitting or shutting down an app—or the Mac itself—is a little death, an attack of amnesia that makes that app or Mac forget where it was.
In Lion, if you quit an app with a bunch of open windows then re-launch it, all those open windows return, right where you left them. Coupled with Auto Save, Resume means that quitting and launching Mac apps in Lion is as seamless as quitting and launching iOS apps: they open back up right where you left off. (You can turn this feature off globally by going to the General pane in System Preferences and unchecking Restore Windows When Quitting and Re-opening Apps; you can also disable it temporarily by holding down the Shift key when you launch an app.)
This feature doesn't work just with individual apps. Lion also keeps track of which apps are open when you shut down or restart your Mac. If you turn off your Mac with Mail, iCal, and TextEdit open, those three apps will be running, right where you left them, when you turn it back on. (You need to be patient about this: If you try to click on a restarted app before it's ready to run, you'll see the spinning-gear and a grayed-out window.)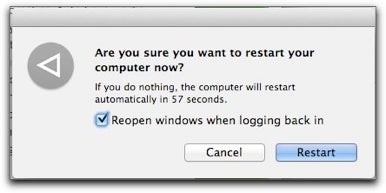 Reopening windows when you log back in is optional.
If you consider Resume alongside the new behavior of the Dock—there's now a System Preferences option to not include a dot under running apps—it's clear that Apple is steering us toward a future in which we no longer think about turning apps on or off; rather, we'll just switch between them just as we do on iPhones and iPads. That future isn't here just yet; in Lion, you can still launch and quit apps. It's just that they're more resilient than they were before. And that dot is still on by default.
Resume is another feature that will make lots of sense to Mac novices, but will force more experienced Mac users to adapt. While I don't like re-opening all my documents every time I quit an app, sometimes I want to start from scratch. Likewise, I've grown up in a Mac environment where only those apps you've specifically set to launch at startup do so; in Lion that's no longer the case. After a few weeks of working with Lion, I'm becoming comfortable with Resume, but I've had to learn to close documents I never want to see again, rather than just quitting the app.
Inside the apps
Of course, there's always more to OS X than the OS itself; there's also all the apps Apple bundles with the system. In Lion, there have been major updates to Mail, iCal, Safari, iChat, Preview, and various other utilities. We'll have separate reviews of many of them in the next few days. But in the meantime, my own quick reactions:
Mail A few months back I abandoned Mail for MailPlane ( ), frustrated by just how slow it seemed when interacting with my Gmail accounts. With the arrival of Lion (and after implementing Joe Kissell's excellent instructions on configuring Mail and Google), I decided to give Mail another chance.
I've found the new version Mail a big improvement. The new wide layout is a good fit for the displays on most Macs, something that previously required a plug-in such as Letterbox or WideMail. Searching for messages is more powerful now, thanks to the same easy-to-use search system found in the Finder. And Mail's support for full-screen mode is solid; on my 11-inch MacBook Air, it's the only app I consistently run that way.
Mail's new conversation view
But I think the best addition to Mail is support for a real conversation view, clustering related messages together so you can see the entire context of an e-mail thread. (That was probably the feature I appreciated most about Gmail.) If you wish (you have to enable it in Mail's preferences), the app will pull all related messages (not just those in the current mailbox) into your view of the conversation. And Mail streamlines the conversation view by automatically hiding text quoted from earlier messages.
Safari Safari's marquee new feature, Reading List, lets you save a Web page for reading later. It's a concept that will be familiar to anyone who's used the iOS app/web service Instapaper. But it would be more accurate to say that Reading List is really just a friendlier version of old-fashioned bookmarking. I don't think Reading List is a replacement for Instapaper because it saves URLs only, not the contents of pages. But it's still better than bookmarking for keeping track of web pages that you want to read later.
Apple has also done away with Safari's Downloads window, replacing it with a popover that appears when you click the Downloads button in the toolbar. I'd often keep Safari's Downloads window open just to monitor the progress of a big download, but that's no longer possible: the new Safari's popover shows you the progress of downloads only from windows you still have open. There is one improvement, though: Downloaded items are now draggable. You no longer have to search for them in the Downloads folder in order to move them somewhere more useful; you can move from the Downloads window itself.
iChat With Lion, iChat has truly embraced its status as a multi-service chat utility. In addition to AIM, previous versions could connect to Google Talk and other servers using the Jabber protocol. But now the door is wide open: iChat supports Yahoo Messenger out of the box, and there's a plug-in system that allows developers of other chat systems to add support for their services. There's also a unified buddy list to bring all your friends on all those services together in one window; you can set a unified status message on all the systems you're using. I'm primarily an AIM guy, even now, but I'm on some other services and will now use them more often. Here's hoping that Microsoft Messenger (and Microsoft's new purchase, Skype) join the iChat party soon.
What's missing from iChat is a bit more confusing. The iMessage service announced by Apple as a part of iOS 5 will presumably debut with its release, but it would've been nice if Apple committed to supporting it within iChat as well. And of course FaceTime is still a separate app, even though iChat supports video chat itself. I'm still not sure why I need to run iChat and FaceTime simultaneously.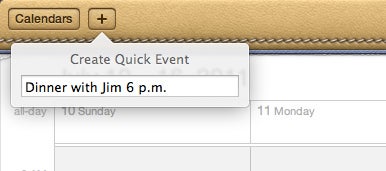 iCal's got a gratuitous new look and a text-based event-creation interface.
iCal The new version of iCal has gotten a makeover: The top of the iCal window has been given a leather texture with hints of torn-off pages beneath (the same design approach used on the iOS Calendar app), making it look a bit more like a paper calendar. It's an unnecessary gimmick, sure—who uses tear-off paper desk calendars anymore, anyway?—but it's mostly harmless. I'm not sure why Apple has chosen to make a few of its apps mock their real-world counterparts, and the app would probably look better with a standard gray toolbar. Sometimes Apple's ways are mysterious. (The functional part of the iCal interface has also been revamped, with the source list on the left side replaced with a popover in order to create more room for actual calendar data.)
The most notable new feature in iCal is support for natural-language event creation. Click on the plus-sign (+) button in the toolbar and, instead of an event pane, you get a blank text box. Type meet with Phil Tuesday at 4 and iCal will do its best to schedule that event; in this case, it'll create an event called Meet with Phil on Tuesday at 4 p.m., and open it in the familiar iCal event pane for you to edit as needed. In testing, this approach worked well, though it's not quite as flexible as a dedicated add-on like the excellent Fantastical ( ) or QuickCal.