Apple iOS 4.1 full review
As it has in previous years, Apple has quickly followed up a major iOS release with a point-one release that promises not only to fix outstanding bugs, but also to bring new and wondrous features to the company's mobile operating system. And this time around, those enhancements are hardly inconsequential: among other things they include a brand new social network (Apple's second to debut in the last week), slick new camera functionality, and a handful of smaller tweaks that you might not have noticed.
ike iOS 4 before it, 4.1 is compatible with the iPhone 3GS and iPhone 4, as well as the second-, third-, and fourth- generation iPod touch models. Unfortunately, the iPhone 3G is the black sheep of the family here, as it only gets some of the features of the new software. And the iPad remains out in the cold until iOS 4.2 finally brings these features, along with the rest of iOS 4's capabilities, to Apple's tablet in November.
Game on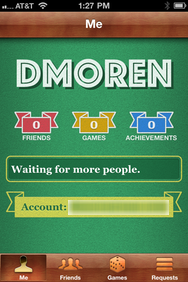 Game Center lets you play games with your friends or—if you have no friends, like me—get matched up against strangers.
It's unquestionably the biggest new addition in iOS 4.1: a brand new built-in app that capitalizes on the success of gaming on Apple's mobile devices.
Game Center is Apple's answer to Microsoft's Xbox Live and Sony's PlayStation Network, a social service that helps connect gamers with their friends, earn achievements, and find opponents online. When you first launch the app, it will request you to confirm a few profile details and pick a username; Game Center uses your Apple ID to log you in, but you can add multiple e-mail addresses so your friends can easily find you (you'll have to verify each address by clicking a link that Apple sends you).
Once you've registered your account, the app lets you view your list of friends and their respective statuses, browse a list of Game Center games, and set your own status. Apple says you'll be able to download Game Center-capable games directly from the app, as well as start sessions, but I wasn't able to check these out due to a lack of Game Center-compatible titles available prior to the software's official release.
Game Center will alert you with an e-mail, a badge on its icon, a pop-up notification, and a trumpet sound when someone requests to be your friend (hey, it's an event, after all). In case you're someplace that you'd rather not have the latter two going off willy-nilly, you can deactivate them under Settings -> Notifications -> Game Center. You can always view your list of outstanding friend requests in Game Center, and accept or reject them as you wish.
You'll also be able to earn achievements from games and view leaderboards to see how you compare to your friends and rivals. And you can also be auto-matched with strangers if none of your friends are available for a match.
It's a little early to see how Game Center will play out, if you'll pardon the expression, as we'll need to wait and see how developers integrate it into their titles. But given that the iPhone, iPad, and especially iPod touch have become surprisingly popular gaming devices, it makes sense for Apple to build an infrastructure to encourage the market.
There's one caveat, however: not all iOS devices will get Game Center. Only the iPhone 3GS, iPhone 4, and second-, third-, and fourth-generation iPod touches are eligible at present. Given that neither the original iPhone or iPod touch supports iOS 4, it's mainly the iPhone 3G that's getting left out in the cold.
Home on the dynamic range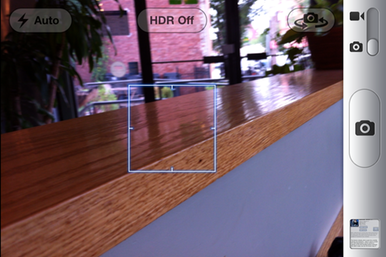 To activate the iPhone 4's HDR photo feature, just tap the button in the Cameras app.
Another major improvement that Apple CEO Steve Jobs touted during last week's unveiling of iOS 4.1 is support for high dynamic range photos. This new feature appears to be limited to the iPhone 4, no surprise given that the phone's camera is the most capable among all of Apple's mobile devices.
When you enable HDR and take a picture, the camera actually snaps three pictures: a picture at normal exposure, an underexposed picture, and an overexposed picture. It then combines all three of these images into a single photo, which can often yield startlingly impressive—though sometimes unreal-looking—images.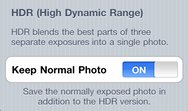 If you want to keep non-HDR versions of the photos you snap, flip this switch in Settings -> Photos.
In 4.1, you enable the feature by tapping the HDR button, which sits in between the flash control and the front/rear camera toggle—activating HDR automatically switches the flash off. You'll also be prompted as to whether or not you want to keep the normal version of the photo in addition to the HDR (you can also toggle this on and off in Settings -> Photos).
Tune in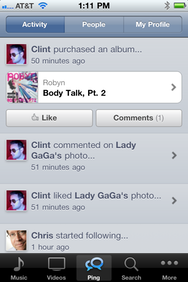 Apple's new music-focused social network, Ping, is now part and parcel of the iTunes app.
iOS 4.1 brings a pair of updates to the iTunes app, though if you're running iOS 4 right now, you'll already have one of them: the inclusion of Ping. Apple's new music-focused social network arrived last week as part of iTunes 10, and Apple quietly updated the iPhone and iPod touch versions of the app to match (Ping is not yet available on the iPad, however, which will have to wait until iOS 4.2 arrives in November).