Apple iPad (Third Generation) full review - Page 3
Takes dictation, but not orders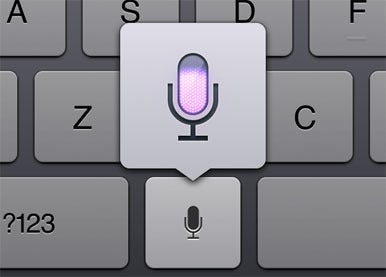 The third-generation iPad offers dictation features, but not the the Siri intelligent-agent feature introduced in the iPhone 4S. My guess is that Apple sees Siri as a feature primarily used by people who don't have their hands on the phone itself, and therefore the iPad wouldn't be an ideal product for Siri's particular brand of voice control navigation.
I actually find Siri useful in many cases where speaking a brief command is more efficient than swiping to unlock, swiping to find the right app, and then tapping through an interface in order to get what I want. I use Siri to set alarms and timers all the time. I don't see why that wouldn't be relevant on the iPad. (Of course, those features use the iPhone's Clock app, which Apple also omits from the iPad! And one of Siri's other marquee features, getting a weather forecast, uses the Weather app—another iPad no-show. Sigh.)
That said, dictation is still a great feature and I'm happy to have it on the iPad. Yes, there have been apps available that allow you to dictate, but now you can dictate from the standard software keyboard just by tapping the new microphone icon, and that's a big deal. Once you get the hang of dictation, which requires you to speak all your punctuation comma you'll discover that it can be a great way to input text without typing period
Buying options
For a company that likes to keep things simple, Apple has provided us with a whole bunch of options when it comes to buying the iPad. Just as with the iPad 2, the third-generation model comes in 18 different varieties. You can choose from:
16GB (£399), 32GB (£479), or 64GB (£559) of onboard storage

White or black bezel (no price difference)

Wi-Fi only, or Wi-Fi plus 4G (£100 extra)
In the past, I've told most people that 16GB is plenty of storage for most iPad users. But 16GB isn't what it used to be. Apps updated to contain Retina-level graphics will balloon in size. HD video files are enormous. Those iBooks enhanced textbooks can be enormous. And shooting five-megapixel images and 1080p video will fill any remaining storage in a hurry.
I still think most buyers should start with the assumption that they'll only need 16GB, but then they'll need to ask themselves a few questions. Anyone who intends to load up with lots of HD movies, shoot videos, or install a whole lot of apps should seriously consider a larger capacity. But a lot of people just don't use the iPad like that, and for them, 16GB will be fine.
Then there's the question of whether to spend an extra £100 for cellular networking. With the addition of Personal Hotspot, the cellular iPad has become more appealing. Given that the iPad's data plan features no contracts—so you can turn it off and on at will—it's a more flexible option for Wi-Fi tethering than either adding tethering to a cell phone plan or buying a separate Wi-Fi hotspot device such as a MiFi.
If you can see using your iPad as a personal hotspot or envision using it often when you're out of Wi-Fi range, the extra £100 is probably a good investment. However, lots of people almost never use their iPads out of range of Wi-Fi, so I expect the Wi-Fi version will remain the most popular option.
One last reason to consider buying a cellular-capable iPad: Only cellular models come with GPS capabilities. There's a good reason for this—iOS devices use assisted GPS to dramatically decrease the amount of time it takes for the devices to determine their location. If you dream of using your iPad as a jumbo GPS navigation console, you'll absolutely need to pay the extra £100. It's worth noting, though, that 4G features are only available in the US and Canada. In the UK, you'll be restricted to 3G networks, at least until the UK actually gets any 4G coverage.